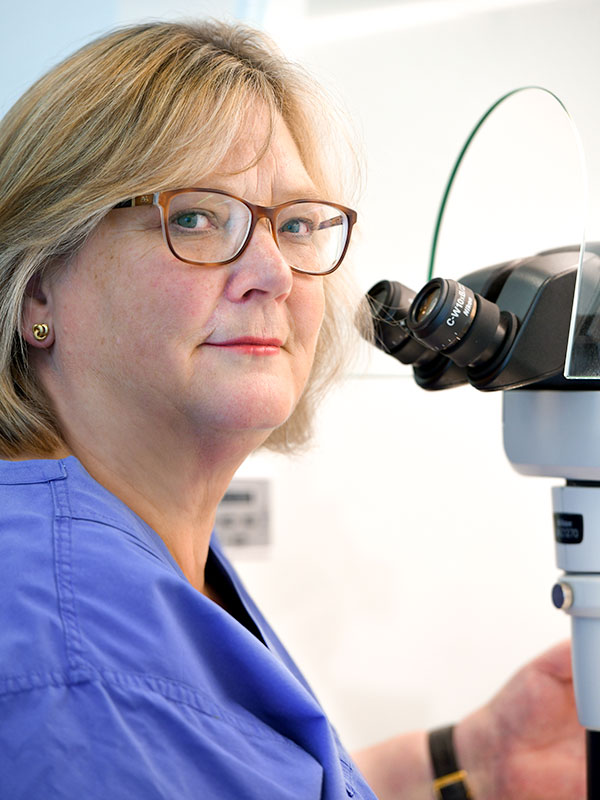 Elisabeth Halbe (graduate biologist)
Head of IVF laboratory
Professional experience
Graduate biologist Elisabeth Halbe is a proven expert in the field of reproductive biology and in her career spanning over 20 years, she has led several IVF laboratories.
After studying biology with a specialisation in cell biology and microbiology at Friedrich Wilhelm University Bonn, and graduating in 1991, she decided to focus on the field of reproductive medicine.
She became familiar with the techniques used in reproductive biology in one of the largest reproductive medicine laboratories in Düsseldorf. She then headed up several IVF laboratories. In Düsseldorf-Benrath (1998-2006), she established a new reproductive medicine unit with the associated quality management system.
She was one of those responsible for maintaining the reproductive medicine department at Freiburg University Hospital (2008-2012).
After this, she took on a freelance consulting role for several laboratories, including a 3-month period spent in Abu Dhabi (Tawam Hospital). Since 2015, she has managed the IVF laboratory at the Fertility Centre run by Prof. Kissler and Prof. Merz at Nordwestkrankenhaus Frankfurt.
In 2004, Ms Halbe was awarded a specialist qualification in human reproductive biology.
Memberships
Member of the "Human Reproductive Biology" working group
Member of the European Society of Human Reproduction and Embryology (ESHRE).